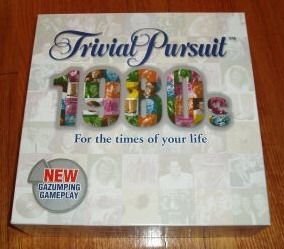 Published

2000

Number of players

2 - 24 players

Average duration

40 mins.

Complexity

No complexity set.

Location

Bookcase #42
Shelf #4
Description
Different to the original Trivial Pursuit: The 1980's that was produced in the early nineties, this edition made its entrance in the twenty-first century on the back of the popularity of all things eighties and the fact that the children of the late seventies and early eighties were now the "High disposable income" generation.
With only six spaces between each Wedge Space and plenty of "Shortcut" spaces to get you to Wedge spaces quicker, this edition is clearly aimed at a younger generation wanting everything faster. A "Gazumping" Dice allowing you to steal wedges from people is optional to use.
Categories in this version are:
News And Views
Entertainment
Living In The 80s
People And Personalities
Music And Music Makers
Sporting Moments
Powered by BoardGameGeek.