Description
To celebrate our re-opening we have partnered with Ventilen to bring back our Bingo Breakfast with all profits from bingo cards getting donated directly to them. Read here about how loneliness affects 125,000 young people every day: https://ventilen.dk/
For 100kr you get an awesome breakfast consisting of Croissant, Boiled Egg, Fruit, Yoghurt w. Muesli and Strawberries, Bread, coffee or tea + Juice. You will also be able to get bingo cards when you arrive. We encourage you to donate 10 kr per card directly to Ventilen.
You will have a chance to win some sweet bastard swag and game prizes kindly donated by our friends from Asmodee Nordics, Spilbræt , Four Esses, & Sidekick Games.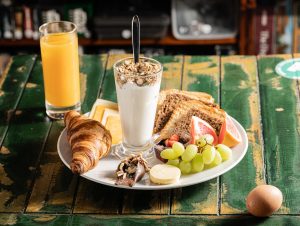 Good To Know
First round of Bingo starts at 11.00 and a second round at 12.00 but you may arrive from 10.00 to enjoy your breakfast plate beforehand.
You ticket includes free gaming and a reservation until 16.00, allowing  you to stay and play games after the event.
This is a family friendly event.
There is a limited amount of tickets available.