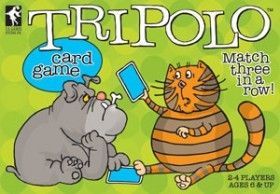 Published

2011

Number of players

2 - 4 players

Average duration

mins.

Complexity

Low

Location

Bookcase #6
Shelf #8
Description
3 in a row makes TRIPOLO.
Wherever you spot 2 similar cards in a row, play a matching card from your hand to make it a "TRIPOLO" — 3 in a row horizontally, vertically, or diagonally. Act fast to be the first player to get rid of all your cards.
Make matches as fast as you can!
Powered by BoardGameGeek.