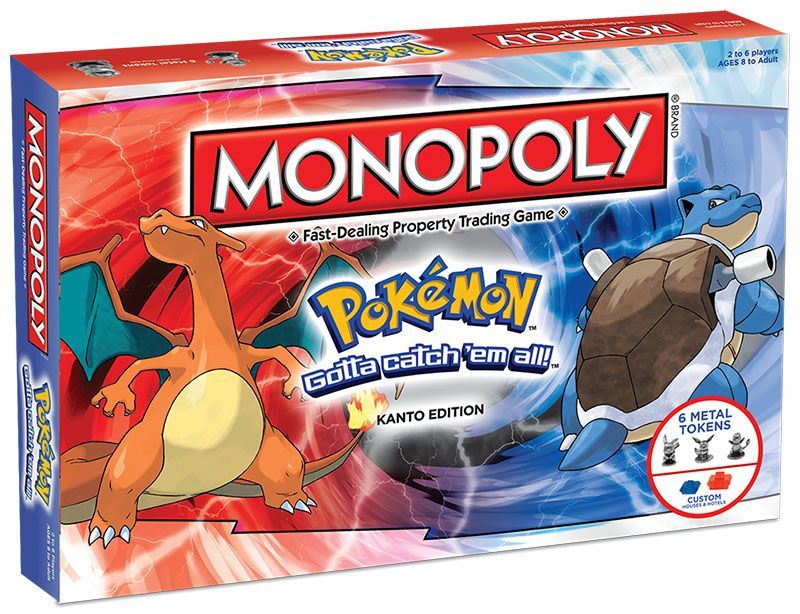 Published
2014
Type
Game
Number of players
2 - 6 players
Average duration
60 mins.
Complexity
Low
Location

Huset

Bookcase: 23 Shelf: 6
Description
Monopoly: Pokémon Kanto Edition is a special edition of the classic Monopoly game adapted towards Pokémon, with focus on the Kanto region. It is the third version of Pokémon Monopoly and is based on Pokémon FireRed/LeafGreen and Pokémon Origins.
Pokémon themed game board features the Kanto Region and all 8 gyms
Includes 6 collectible metal tokens: Pikachu, Bulbasaur, Charmander, Squirtle, Eevee, Jigglypuff
Custom sculpted Poké Marts and Pokémon Centers replace traditional Houses and Hotels
Professor Oak and Trainer Battle Cards replace Chance and Community Chest Cards
Custom Pokémon Money replaces original Monopoly bills
Join Pikachu and friends on an adventure through the Kanto Region! In this special Pokémon: Kanto Edition of Monopoly you'll travel through all eight gyms and battle Gym Leader Pokémon. Trainer Battle and Professor Oak cards might reward you for Pokémon encounters, or bring an unexpected surprise. Buy, sell and trade with other Pokémon Trainers to get a powerful Pokémon team and win the game!
–description from publisher